Resilience is the most important attribute of SEO professionals. Google is constantly changing its algorithm. This renders months-long efforts in SEO useless when new ranking factors are introduced.
Industry experts are always on the lookout for new SEO trends. Every major update, such as the Maverick update or the BERT update, has brought new practices that have transformed SEO. — introduced new practices that changed SEO. 2021 is no exception.
Continue reading to find out the most recent SEO trends for the rest of 2021 and 2022.
Is Search Engine Optimisation is still relevant in 2021 or 2022? Definitely yes. It just has become more complex, its focus has changed from keyword stuffing to user intent, and it is harder to rank on the Google SERPs. It's here to stay.
Let's dive deep into six of the most important SEO trends you need to be ahead of next year (assuming that Google doesn't change things in the first and second quarters). These are the top SEO trends.
READ MORE: Boost Your Traffic With These 30 Powerful And Easy Following Tips
Trend #1 – Algorithms: See ya BERT! Welcome aboard MUM
In 2019, Google launched BERT (Bidirectional encoder representations from Transformers), which made it easier for the algorithm to understand the relationship between words, and the intent behind a search query.
BERT was a new way for Google to provide voice assistance. Instead of typing search queries, people were talking to them. Google needed to adjust its algorithm with the aid of NLP, AI technologies, and because people communicate more fluidly and in conversation than ever before.
But BERT was just the beginning. The company unveiled a new model to interpret and service its users at the Google 2021 conference. They called it Multitask Unified Model or MUM.
Prabhakar Raghavan is the Head of Search at Google.
Google's new Natural Language Processing Model (1000 times more powerful than BERT) can multitask to unlock new information.
MUM can analyse video, images, and text in 75 languages. This allows you to answer complicated search queries.
Simply put, MUM is an AI model which can understand the user's emotions, context and intent. It then provides relevant answers specific to the query. MUM will eliminate the need for users to create multiple queries in order to find the correct keyword that gives them the answer they want.
Google will instead provide the results they desire with just one conversational query.
MUM's multimodality allows users to combine text, images, and voice to get relevant results. As Pandu Nayak Google VP of Search explains:
"Eventually you may be able to take a picture of your hiking boots to ask, "Can I use these to climb Mt. "Can I use these boots to hike Mt. Fuji?" Fuji? This could point you to a blog listing recommended gear.
Take a look at Prabhakar Raghavan's presentation for the first four minutes to get an idea of MUM.
MUM is still being tested as of August 2021. It should be operational soon, however. We can't be certain of its effectiveness and power until that time. Also, we don't know how search results will change.
If it is similar to BERT, then we can envision a stronger emphasis on authority signals and an answer-centric approach for content.
#2) – Core Web Vitals – User Experience Is

On The Next Level
SEO is no longer about optimising pages for keywords and building links to them as the primary way to rank them. SEO of course still dependant on SEO on-site optimisation, link building, and other factors that are important, but they are not the only ones that matter anymore.
Page experience is a new member of our ranking factors family. Google defines this way:
"A set of signals that measures how users perceive the experience of interfacing with a website beyond its informational value."
They announced the update in May 2020. They said that they would make changes gradually and hope to complete the reforms by August 2021. Google has now launched the complete update to its algorithm.
Its new page experience update features the most important element Core HTML Vitals, which is a collection of metrics that measures a page's loading speed from a user interface perspective.
Largest Contentful Painting (LCP).: This measures loading performance. Google recommends that you aim for a LCP of 2.5 seconds once a page loads.
FID: Measures interactivity. Google recommends a FID less than 100 microseconds.
Cumulative layout Shift (CLS): This measures visual stability. Google recommends that a CLS score be less than 0.01.

Google uses Core web Vitals in combination with other factors, such as mobile-friendliness and the use of the HTTPS protocol. They also consider the complete set of measures that place user experience at their top.
You will need to optimise your website to achieve the Core Web Vitals score in a user-centric world. You are probably already familiar with the other three recommendations, so it may seem redundant to mention them.
Google will not wait for you if your website isn't mobile-friendly or HTTPS secured.
#3) – Shopping Graph: Google Loves It And

Takes Online Buying Very Serious
Online shopping was the only viable option for consumers during the COVID-19 pandemic. It's not surprising that Shopify's financial results exceeded everyone's expectations, while Amazon did similarly.
Google's online shopping capabilities were not strong until recently. Although their Shopping search engine has been around for some time, it never gained the same popularity as Shopify and Amazon. Google appears to finally be serious about online shopping.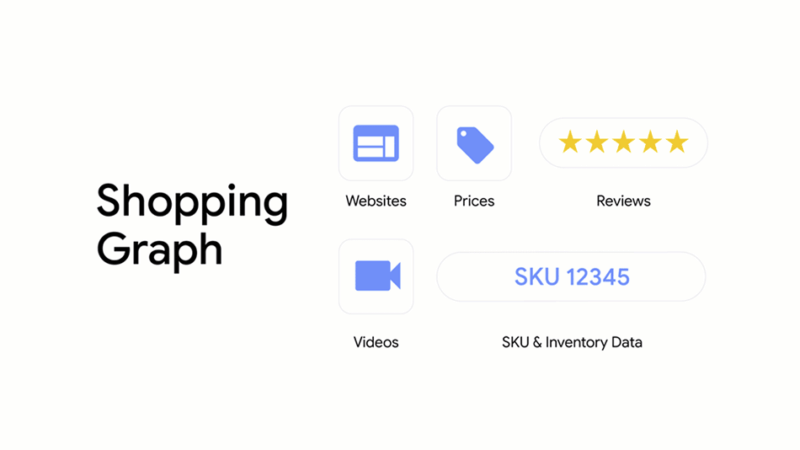 Google has just announced the Shopping graph launch. This is a:
"A dynamic, AI-enhanced, AI-enabled model that understands and responds to a continuously changing set of products and sellers, brands, reviews, and most importantly, product information and inventory data directly from retailers and brands — and how these attributes relate to each other."
Bill Ready, president of Commerce and Payments said that the Shopping Graph works in real-time, so users can find and buy products right away.
Google has also extended its partnership with Shopify, allowing its 1.85 million merchants the ability to showcase their products within Google's ecosystem. This resulted in a "70% rise in our product catalogue size and an 80% growth in merchants on our platforms."
Open Cart Tabs
Google has also added a Chrome mobile feature that displays your carts when you open a new tab.
Loyalty Programmes Linked
Google will let brands link their loyalty programme to users' accounts. This new feature will allow brands to reward their most loyal customers across Google's ecosystem.
Get great deals
Matt Madrigal (VP/GM Merchant Shopping) explained in July that they had noticed a 50% rise in searches for "discount code" and launched a new Shopping tab to show the most recent deals from retailers for shopping-related keywords.
Relevant Retail Deals
Google Search will highlight Cyber Monday and Black Friday deals in October. A new section will be created for searches such as "Black Friday deals" and "Cyber Monday Sales" to highlight relevant sales information.
Carousel: Affordable Choices
Google began testing an "affordable choices" carousel for mobile searches in August. It features the query " Cheap".
I apologise if I overwhelm you with this information. Google takes shopping seriously.
We are yet to see the results that online retailers can expect, despite the fact that most of these tools will be available by 2021's end. We couldn't be happier for the new tools that e-commerce businesses will have access to. Who knows? Google may now be able to offer e-commerce services that are more robust.
#4) Page Ranking: You can't rank a whole     

page? Not a problem, rank an excerpt 

instead
.
Since the inception of search engines, ranking page one for every search query has been the goal of SEO experts. This feat has been difficult in recent years due to the "zero rank" position and increased competition for the top spot.
Google offers a solution to frustrated SEO professionals who want to rank at the top of search engine results.
Google introduced "passage indexing" late last year. This allows pages to rank for specific passages instead of the entire page. The "passage ranking" was made available in February 2021.

Google stated that their algorithm would consider some of the "stronger signals about a page" – such as page titles and headings – to determine which results are most relevant to a query.
Prabhakar Raghavan stated that the latest passage-based indexing would affect 7% of search queries in all languages once it is fully implemented globally.
There is not much information available about how to rank a particular passage at the moment. Actually, passages are very volatile and context-specific.
Google reps stated that to rank for passages, it is best to focus on traditional signals such as page titles and headings. Although the implications of this information for your SEO strategy may not be clear, it is important to understand that passages are now a thing. Even though the implications for your a data-lasso-id="36914″ href="https://www.studio22.com.au/search-engine-optimisation–seo/">SEO strategy are yet to be seen, it's good to know that passages are now a thing.
# 5) – Suggested clips: Optimise your

videos
We've spoken extensively about video marketing as a means of traffic acquisition and lead generation. This is another SEO trend that has been very popular. Recent changes have made video marketing an increasingly important part of your SEO strategy.
John Mueller, Google Search Advocate, launched two new structured data types during Google I/O. These types can be used to get a piece from the "Suggested clips" tab in your videos.
Google launched key moments in 2019 by showing video excerpts with timestamps, titles and descriptions within their search engine. However, key moments were built automatically from YouTube videos. You can now define the labels and timestamps for your videos with the new structured data types launch
Videos have always been considered a "nice-to-have" component of a wider SEO strategy that is mostly used to increase engagement and content consumption. These two changes will make videos a crucial part of ranking for competitive terms.
# 6) – LaMDA: Use your voice – big G wants

To

talk.
You've probably heard a lot about voice searching and how important it is to optimise for user questions when it comes to SEO trends. Google is only now changing its algorithm to accommodate the most recent voice-based technologies. Now, Google wants to be able to talk to you.

Google's plans do not have anything to do with creepy, talking robots. Just yet.
Google also revealed LaMDA, a language model for dialogue applications, at the Google I/O conference. LaMDA, as its name implies, is a machine learning model that can be used to facilitate dialogue. It was built on Transformer Google's neural network architecture.
Eli Collins and Zoubin Ghahramani (Senior Research Director), believe that LaMDA is an architecture:
"Produces a model which can be trained to read many words (a paragraph or sentence, for instance), pay attention to how they relate and predict the next words. LaMDA was trained in dialogue.
LaMDA is interested in having a conversation with users and providing results based on their inputs.
LaMDA is just one part of Google's overall strategy. Expect to see more advanced AI models that use conversational questions to rank pages and find them. You should optimise your website for voice searches if you have not done so.
Last Words about SEO Trends in 2022
The year 2021 was a great year for SEO professionals. The majority of the changes were made by 2020 announcements, but the focus is shifting towards AI-based results that combine pages, video, and other media.
UX is more important than ever and marketers must be able to see beyond the technical aspects of their SEO work to achieve success.
These six SEO trends will help you to distinguish your site from others and take advantage of the highly competitive SEO world that we live in.