If you own a Facebook Business Page, you may have been deb
ating whether to upgrade it to the new Pages experience. 
Social media managers around the world are terrified by the phrase "Facebook Update". And although the Page experience upgrade is quite large, it's mostly positive. 
Have you switched your Facebook business page to the new Pages experience? Are you curious about the changes and how they will affect your business? 
Perth advertising agency, Studio22, have put together this article to explain how Facebook's new Pages experience works. It also explains what you should do to make sure your organic Facebook business presence is making a good impression. 
What's the new page experience?
Facebook says that the new Page experience allows you to manage your professional Facebook presence. It will help you grow your business or brand, increase your audience, and connect with your followers. 
So, it's not an upgrade; it's an "experience". Which is very on brand Meta. 
What happens to all your existing content?
You don't have to be worried about the content you've created over the years. 
Facebook claims that all Page content, including photos and videos, as well as stories and groups, will be moved to your new Page automatically when you update your traditional Page. All Page followers and likes from your old Page will be transferred to the new Page. It will also transfer to your new Page if your Page has a Blue Verification Check. 
Rest assured that your content will be seamlessly migrated to the new Page experience. But, what about features, tools, and admin access? 
Can I decide whether to update or not?
Unfortunately, not. We know right, shocking, Meta doesn't care that we are all happy with the Classic Page Experience. Meta will automatically update your Page to the latest Page experience when it comes time to do so. 
When your Page changes, you will still be able to view it via its public URL. 
To switch to your Page click your profile photo in the upper-right corner > See all Profiles > Click on the Page that you would like to switch. 
Meta Business Suite still offers the best solution for managing social media activity, such as Facebook Messenger and Instagram. 
Can I still manage the Page through my personal account?
No. This is perhaps the most important change that the new Page experience brings. 
Access to admin, features, and tools
If you have ever spent any time in Facebook's business manager, you will know how frustrating it can be when things go wrong. The task of juggling permissions and access can seem like a never-ending battle. 
If you have Facebook access, you can access the new Page experience. You will have settings, permissions, and content. 
Additionally, anyone who was an administrator on the Page before transitioning to the new Page experience will still have access to Facebook. 
While this is all great news! It's important to remember that there are some changes you need to be aware of: 
The Classic Page roles of moderator or editor will not be available now.

 

To help manage your new Page, you can 

grant Facebook access 

and task access.

 

For pages that have been transitioned to the new Page experience, the global page structure isn't yet available.

 

Blue verification checks will be transferred to the new Page experience.

 
How to update from a Classic Page to a New Page?
So, you want to make your Page a… Page.? We know that it can be confusing. Although the process of updating is simple, there are some differences depending on whether you are updating via a computer or a smartphone. 
Here's how to update your Facebook Page. 
Update your classic Page to a new Page using your phone
You can upgrade your Page to the new Pages experience if you have an existing Facebook Page. Your Page will most likely be updated automatically. But here are the steps to create a new Page using your existing Page on your mobile device. 
To convert a Page to a new Page, open the Page you wish to change.

 

Tap on the More menu (…) and then tap on Settings.

 

Tap New Page experience.

 

Tap Get started.

 

Click Next.

 

Once you are ready, click Update and use Page.

 
Update your classic Page to a new Page using your computer
If you have a Facebook classic Page, you can easily update it to the new Pages experience. Here are the steps to set up your new Page from your existing Page on a computer. 
If you are eligible, a notice will appear on your classic Page introducing new Pages.

 

Click Learn more.

 

Click Get started.

 

Click Next.

 

Once you're satisfied with your selection, click Update and Use Page.

 
Access to and tasks within the new Pages experience
To manage page access, follow these steps from your Facebook Page: click Professional dashboard> Page Access 


You can now control who can post on your Facebook Page. 
Facebook users can access the Page by switching to it from their Facebook account. You can also manage the Page using Meta Business Suite and Creator Studio. 
Task access users can't switch to a Page on Facebook. However, they can manage certain tasks with other tools such as Meta Business Suite and Creator Studio. 
Admins Business Accounts can give others, or themselves, access to the Page and then remove it. They can delete the Page at their discretion. 
Page Likes are gone!
Facebook Pages have displayed both Page Followers and total Page Likes for years. However, it appears that Meta will soon remove Page Likes from Facebook Pages and show only Page Followers. 
You may still see likes and followers when your Page moves to the new Page experience. But don't be surprised that this might change sooner than you expected. 
The Professional Dashboard is your new home of insights
You want to see how your content is performing and learn more about your audience. The professional dashboard is where you can do this.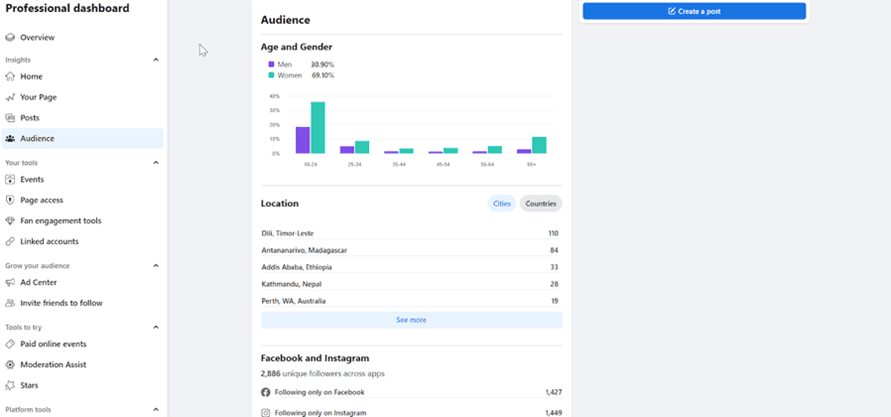 Click on the Professional dashboard link at the left-hand corner of your page. You'll be able to access various tools and data analytics information once you click on the Professional dashboard. The professional dashboard is a simplified version of Business Suite. It's great for quick overviews, but Business Suite offers more in-depth information. 
Interacting with other Business Pages
Did you know that Facebook allows you to interact with other business pages as your business page? This sounds straightforward, but it was difficult and frustrating in the class Page days. Just like us, we're certain you would have commented on a post with your personal account instead of your Business Page without realising it. 
The Page experience now offers pages their own feeds. These feeds behave and feel like your personal feed. 
Switch to your Page then click the Home icon to access your Page's feed. Simple! You should now have content on your Page's feed from Pages you are following. If you don't have any pages to follow, you should be prompted for some pages you like. 
Featured Items
The new Page experience gives business pages the opportunity to pin up to six posts and highlight events, as well as other features.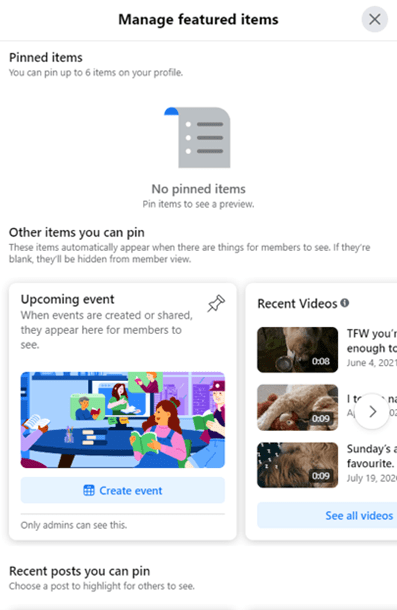 Although it isn't ground breaking, featured items are nice to have. 
At the end of the day …
The new Page experience is not revolutionary, but most of the updates are a step in a positive direction for Facebook. We love the idea of separating personal and business accounts. This makes things simpler and lowers the chance for embarrassing and unprofessional errors. 
Need help transitioning to the new Facebook Business Page?
Are you unsure where to begin? These social media changes can be confusing to keep track of. Get in touch with the Perth marketing team at Studio22 and we can help you manage, schedule, and post your social media content. Studio22 offers social media management to local Perth business, with the aim to grow and engage their audience through a variety of Perth marketing channels. Learn more here.